It's been a couple of months since the release of the Samsung Galaxy S7 so there are now hundreds of different cases out there but today we are checking out four great cases that should satisfy your phone protection needs. All of these cases will protect your phone from an average drop but differ vastly in grip and overall feel. The great thing about all four of these cases is that they will add little-to-no weight to your S7 while still providing great protection.
---
Spigen Slim Armor
First off we have the Spigen Slim Armor in Gunmetal which is a go-to case for many smartphone buyers as it offers the best of all worlds. This case is half plastic and half rubber which allows for great drop protection while keeping phone sleek. All of the buttons are covered with rubber which makes them less clicky yet easier to press. This case doesn't let much heat through so it's great if you play lots of games and your device tends to get uncomfortable from the heat. The back of the case is plastic which allows the case to easily slide out of a pocker or purse.This one also has a little kickstand which works perfectly if you want to watch a movie on a plane or just prop it up around your home.
The Spigen Slim Armor for the Galaxy S7 is available at Mobilefun for £19.99 ($24.49).
---
Caseology Parallax Case
Next up we have the Caseology Parallax Series case in black which is my favorite of the bunch because of how solid it feels in the hand. Unlike the plastic back from the Spigen Slim Armor, this one has a rubber back with a nice texture that makes it feel more rugged and secure in the hand. This one has buttons on top of the original buttons which keep that nice clicky feel you get with the S7's buttons. The lip on the front of the case is enough to protect the phone yet isn't obtrusive when you slide past the screen onto the case, it's been designed perfecly for the phone.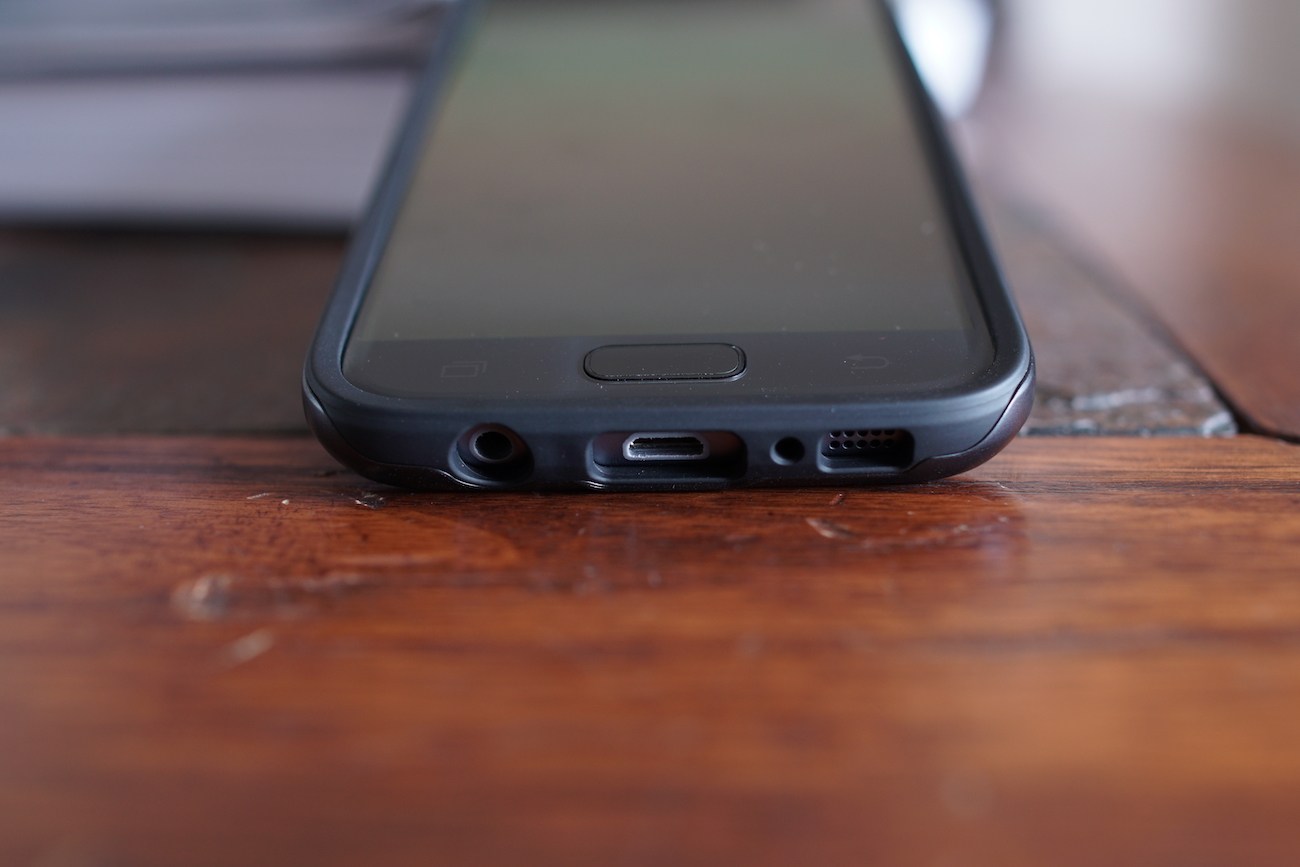 The Caseology Parallax Series case for the Galaxy S7 is available at Mobilefun for £19.99 ($24.49).
---
Olixar Ultra-Thin and FlexiShield
Lastly we have the Olixar Ultra-Thin and the Olixar FlexiShield, both of which are silicone cases. The Ultra-Thin case is very thin while the FlexiShield is a little thicker and feels a bit more plasticky than just gel/silicone. I love keeping my devices minimal so my choice here is the Ultra-Thin. If you tend to like gel cases then you will like both of these. I've always prefered plastic/rubber cases like the Caseology or Spigen since I like the more slippery material so it slides in and out of my pocket. The FlexiShield feels more like a case since the buttons are reinforced and there's more material than the Ultra-Thin. I definitely don't reccomend the Ultra-Thin if you tend to drop your phone a lot since this one will protect it but your device could still get damaged since it's very thin.
The Olixar Ultra-Thin retails for £7.99 ($9.99) while the Olixar FlexiShield is £5.99 ($7.49), both are available on Mobilefun.
---
We do want to thank the folks from http://www.mobilefun.co.uk for providing us with these cases to review. We also want to note that any of these types products purchased through mobilefun will have a 1-year warranty.