QardioArm is a wireless blood pressure monitor that raised $146,339 on Indiegogo and currently retails for $100. The monitor connects to an app that is available for free on Android and iOS, the app lets you track how you are doing and even send results to your doctor.
In The Box
Inside the box we have the blood pressure monitor and a user guide. What's great is that they have managed to create a very simple product that is packaged nicely and looks good too. It doesn't look like a blood pressure monitor and that's a good thing, this won't look like a mess in if left out in the open somewhere.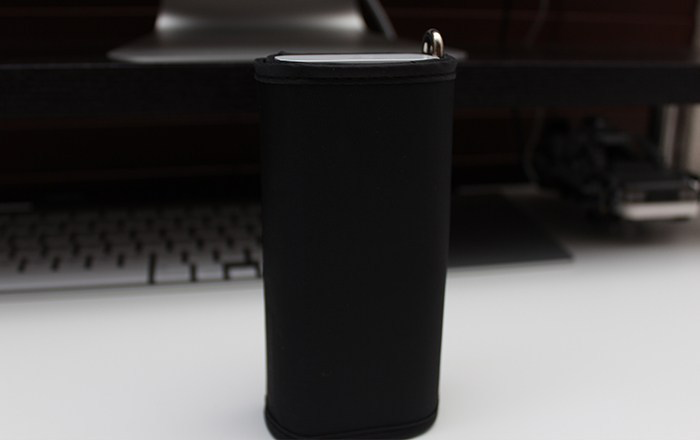 Seamless Experience
When you first start up the app you will be prompted to turn bluetooth on and then touch your phone to the CardioArm to pay and it does in seconds. There's no need to go to settings and pair the device with a code, it just pairs itself and you are ready to go. The monitor is a white block which is wrapped with the armband when not in use and rests on top of the band when in use. There are no cables and no buttons on the device, you go in the app and just take your measurement.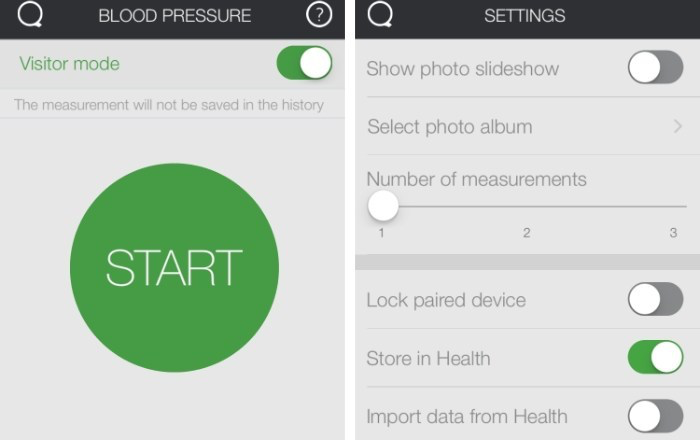 The App
The CardioArm needs a smartphone running the Qardio App in order for it to work. The app is available on iOS and Android but only works on a handful of Android devices, below are the lists of supported iOS and Android Devices…
iOS: iPhone 4s ,iPhone 5, iPhone 5c, iPhone 5s, iPod 5, iPad Air, iPad with Retina Display, iPad Mini, iPad Mini with Retina Display
Android: Samsung s5, Samsung s4, Samsung Galaxy Note 3, HTC One M8, HTC One M7, Sony Xperia 72, Motorola Moto X, LG Nexus 5. Other devices might work but they haven't been validated.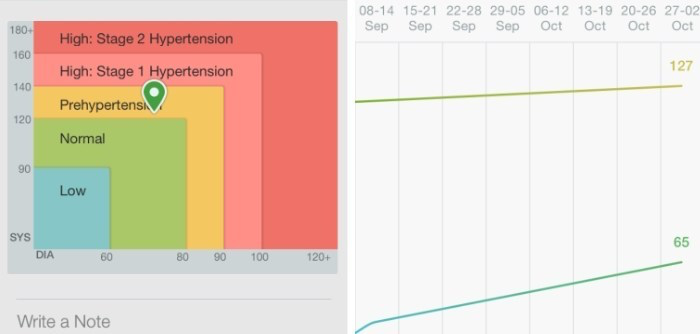 The app is full of features and simple to navigate through. The main screen of the app allows you to take a measurements, view history, or create reminders for when to take your blood pressure. The history tab allows you to view your past readings in a graph (Day,Week, Month) or a list, there is also a calendar view so you can see which days you didn't take a measurement on.
You have the ability to turn on a photo slideshow while taking your measurements so you can look at something that will calm you down so you get better measurements. There is also a setting for taking more than one measurement in a sitting so you can get an average of numerous measurements for a more accurate reading. Recently, Qardio updated the app to work with Apple's Health app and it sends every measurement over to the Health app seamlessly.
Measurements
The good looks of the device and great app don't matter if the actual experience of measuring your blood pressure isn't accurate. When I measured my blood pressure more than once in a row, the measurements didn't vary by much too much but were definitely more accurate when measuring three times and getting the average. I haven't gotten my blood pressure monitored by a doctor in years but I remember the feeling well enough to say that this feels like a real monitor and not a toy. All I had for comparison during this review was a cheap $30 monitor from Walgreens which did not grasp my arm as much but felt like a toy when it was pumping up and measurements were more inaccurate compared to the ones on the QardioArm.
I had an issue with the QardioArm where every single time I took a measurement, my fingers got numb and my arm felt tired/got sore. I got few other people to try it on and the reactions were the same, it was overfilling with air! This was happening until I reset the QardioArm, unpaired it from my phone, and re-connected it. It must have been some odd glitch that started happening once I upgraded to iOS 8.
After the fix, the cuff still fills up with enough air that it kinda works me up and, I feel, raises my blood pressure (this also happens to me whenever I take my blood pressure on other devices). While most are accustomed to a firm grasp from the cuff once filled with air, I thought I should mention this too really grasps your arm when measuring.
What I Liked
Lightweight

No Cables

Simple App

Comfortable Armband

Guest Mode

Bluetooth Lock

Sharing Measurements

Apple Health Integration

Easy to change batteries
What I Didn't Like
Slightly uncomfortable when filled with air (like many monitors)
Conclusion
If you want a smart blood pressure monitor then this is one of the few available in the market and is definitely worth considering. The design is simple, the app is easy to use and tracks a lot of information, and measuring is accurate enough for a home monitoring device. The device has some great reviews on Amazon and retails for $100 which makes it one of the cheaper options of phone connected Blood Pressure Monitors. If you are in the market for a blood pressure monitor then this one is worth purchasing to see how you like it.
Disclaimer: DarGadgetZ received the unit from Qardio to review. Qardio's involvement had no impact on the reviewers opinion.