iOS 13 takes on a dramatic new look with Dark Mode. It also brings fun and functional updates to Photos, Maps, Messages, and more. As well as new features to help you manage your privacy and security. Apple now has iPadOS which introduces a Home screen designed just for iPad. Along with new ways to work on multiple apps and files at once, simple gestures for editing text, and desktop-class browsing.
How to Download iOS 13 Beta 1?
If you are registered as an Apple developer, you can download the iOS 13 beta 1 for any compatible iPhone and iPod here. If the link is nothing is showing up yet then refresh the site a little later for when Apple posts the Beta you want. Click here to go to the Apple Developer Download Portal and login with your iCloud Account. Once there, you will select the software you need for the device you want and then follow the instructions for installing the configuration profile below!
You can also download it here from betaprofiles.com if you don't have a developer account. Be advised that this version is not stable and is just a beta so proceed with caution and back things up!
How to get iOS 13 Beta without developer account?
Luckily, Apple will be having a public betas for iOS, iPad OS, and Mac OS in July. You can sign up to be a part of the program over on Apple's site!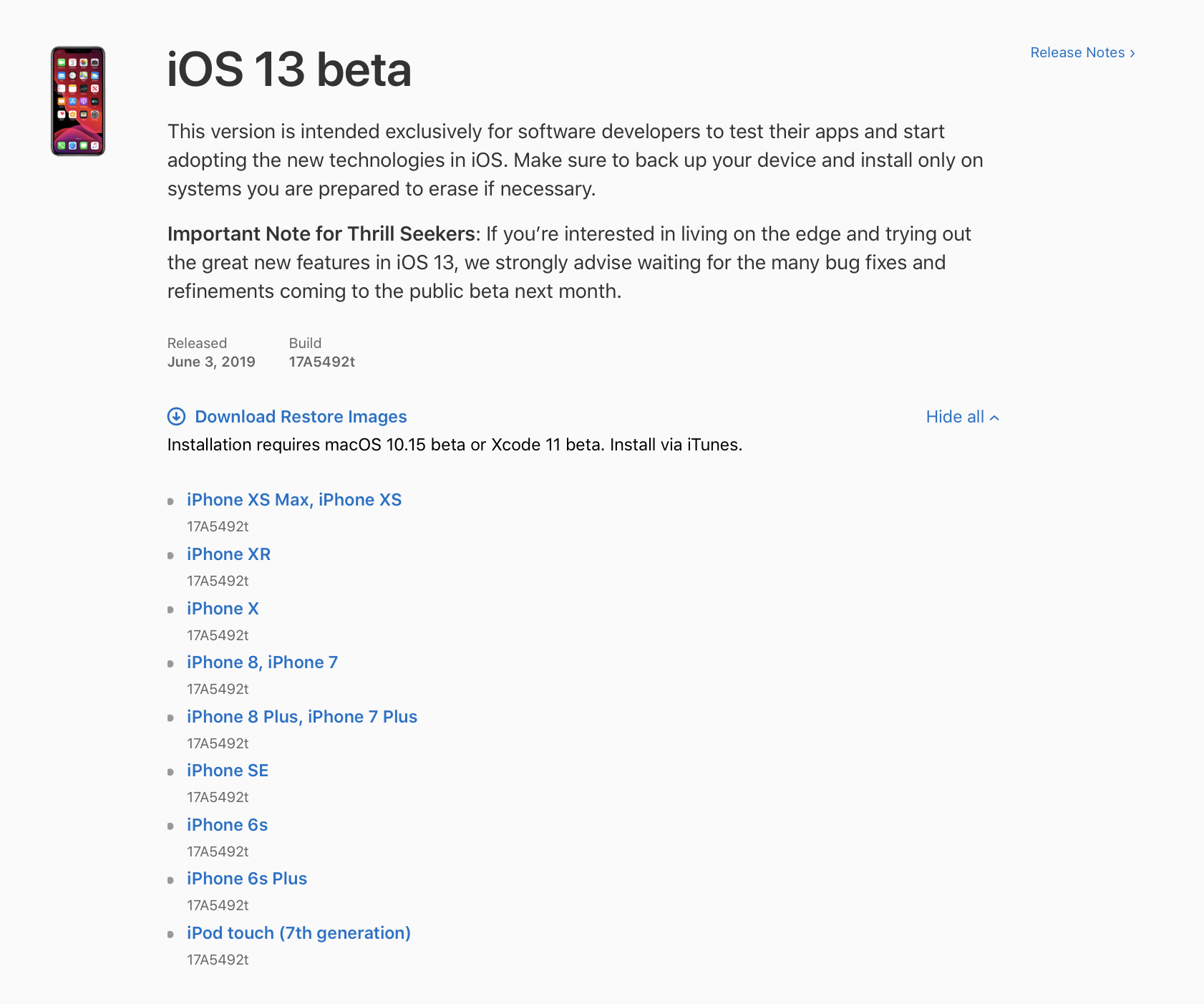 This is how the developer portal looks. Right now they have the restore images available for download!
Installation Using the Configuration Profile
Download the configuration profile from the download page.

On your iOS device: Download the configuration profile directly onto your iOS device and follow the installation instructions.

On your Mac or PC: Save the file to your hard disk and email it to an account on your iPhone. Tap the configuration profile in Mail and follow the installation instructions.

Connect your device to a power cord and connect to Wi-Fi.

Tap Settings > General > Software Update.

Tap Download and Install.

To update now, tap Install. Or tap Later and choose Install Tonight or Remind Me Later. If you tap Install Tonight, connect your device to a power cord at night and your device will update automatically by morning.

If prompted, enter your passcode.
Installation Using the Restore Image
Download the iOS beta software restore image for your device from the download page.

Make sure you are running the latest version of iTunes on your Mac.

Open iTunes on your Mac.

Connect your iOS device to your computer with the cable that came with your device.

If you're prompted for your device passcode or to Trust This Computer, follow the onscreen steps. If you forget your passcode, help is available.

Select your iOS device when it appears in iTunes.

In the Summary panel, hold the Option key and click the Check for Update button.

Select the iOS beta software restore image and click Open to start the installation.

After installing the beta, your device will reboot and will require a network connection to complete activation.
Warning!
These betas are usually quite unstable which lead to terrible battery life and some of your favorite apps may not work. Unless you really need the beta, I suggest staying away from it until the public beta goes live which is definitely more stable!